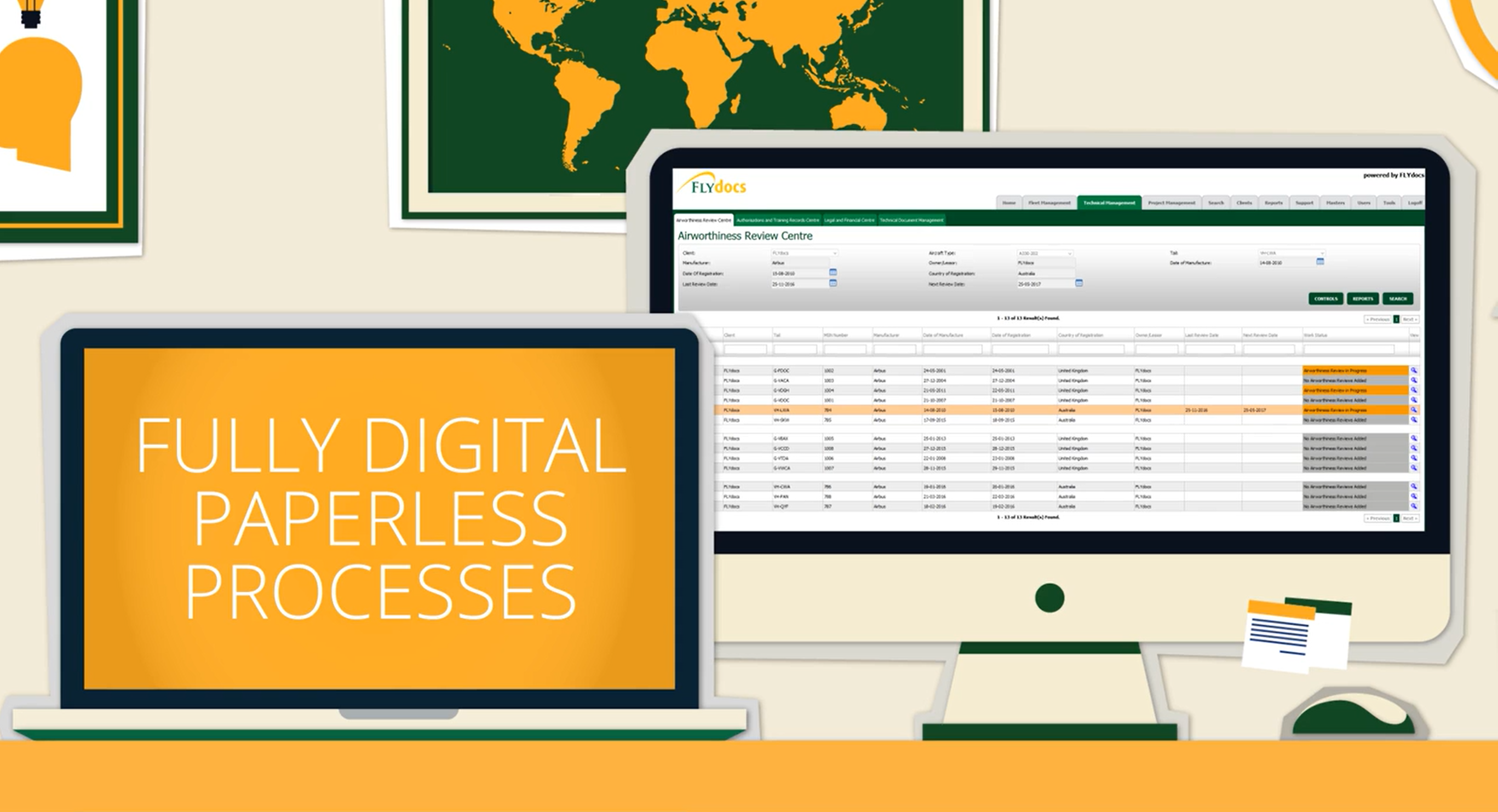 News
Join our live flydocs® web demo on 11th October
Join our live web demo, hosted by Aircraft IT, to see for yourself the benefits of digitising your aircraft maintenance records.
Using live software demos you will see how aircraft lease transactions can be performed in a completely paperless way with significant time and cost savings. You will also see how flydocs®' advanced aviation data and records management platform is used by airlines, lessors, OEMs, MROs and bank and asset managers worldwide (recent customers include: Frontier Airlines, Silk Air, Nordic Aviation Capital, MCAP and Avtrade) to digitise and automate their back office processes, and provide real-time on-demand compliance reports, plus how it can integrate with any M&E / MRO system.
During the Webinar you will see how flydocs® is transforming the way users manage fleet records on a day-to-day basis, allowing smoother end of lease transitions, and improved airworthiness compliance through easy management of technical records and entire documentation libraries in digital format in one central location. You will also see how the software controls the paper trail, electronic data and current live status of each aircraft or engine at the touch of a button.
The demo sections of the Webinar will show how you can:
Store, index and control all documents for your assets in one central location
Find documents in seconds
Provide third parties with access to information from anywhere
Conduct paperless aircraft peer-to-peer trading
Manage assets real-time with live current aircraft status
Integrate seamlessly with your existing ERP and engineering systems
Have a back-up of all your asset records
Project, manage and report on each lease, delivery and staffing
Be EFB and RFID ready and ATA compliant.
Webinar Agenda:
An overview of flydocs, the company
An introduction to the flydocs® platform
A live demonstration of the flydocs

®

platform
Questions & Answers
Webinar Date & Time:s
Thursday, 11th October at 06.30 GMT
Thursday, 11th October at 14.30 GMT